The DownTown Ensemble
VERBALIZATION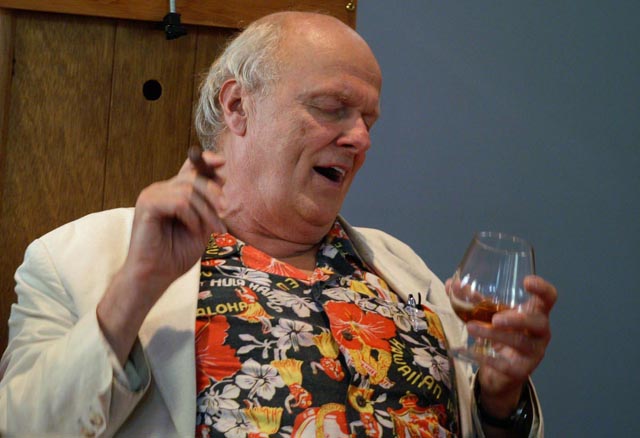 Sunday, June 17 @ 3pm
The Brick Elephant
12 Emily Street
Valley Falls, NY 12185

Admission by donation
There will be a reception after the concert.


On June 17 the DownTown Ensemble will feature Bill Hellermann performing Alison Knowles' widely acclaimed North Water Song, as well as performances by Hellermann of sound/text pieces by Robert Ashley, Philip Corner, Daniel Goode, Tom Johnson, Alison Knowles, and David Mahler. Featured instrumental performers will be downtown stalwarts Alex Waterman and Daniel Goode, Co-director of the DownTown Ensemble.

Alison Knowles (born 1933) in New York City is an American visual artist known for her soundworks, installations, performances, and publications. Knowles was very active in the Fluxus movement, and continues to create work inspired by her Fluxus experience. She has created work that incorporates performance, radio, and sound, papermaking, and printmaking. Knowles was married to the Fluxus artist and prominent intermedia theorist, Dick Higgins, from 1960 to 1970, and again from 1984 until Higgins' death in 1998. In 2000, Knowles began casting flax paper to make musical instruments. The Bean Turner, Rattles, and Wings and Drums use beans for sound with the aid of text, toys and silence.

Bill Hellermann, well known as a composer guitarist on the downtown scene in the 70s and 80s, has in the last five years appeared as a reciter/narrator of texts in experimental music works. As a curator at PS 1, the Clock Tower, and the Alternative Museum he launched the first exhibitions of sound sculpture and audio art, and in the process bringing into usage the term "Soundart".

Robert Ashley is widely regarded as one of the foremost composers of experimental music. He is best known for his operas Perfect Lives, Atalanta (Acts of God), and the monumental tetralogy, Now Eleanor's Idea. On this concert Hellermann will perform his rarely performed narration piece
Regards to Natalie Wood.

Daniel Goode's new work Scott is one of a series of monologues with music written expressly for Bill Hellermann and this latest one focuses on the troubles going on in his home state of Wisconsin, with some asides on the travails of God.

The DownTown Ensemble was founded in 1983 by its co-directors, Daniel Goode and William Hellermann, as a response to a perceived need for repertoire customarily under-represented in today's new music world. "This intrepid group of conceptualists cuts no aesthetic corners." (The Village Voice) Although originally formed in New York City, the group is now based in Columbiaville, Columbia County, where Mr. Hellermann lives. The Ensemble has made its reputation performing a number of different types of experimental music, such as: traditionally notated and graphic music scores, sound/text music, ritual/intermedia pieces, performance art and Fluxus, improvisation in a number of traditions; large ensemble, scores for variable (unspecified) instrumentation, and interactive computer music. The group regularly features composers performing and directing their music often written expressly for the Ensemble. There have been over one hundred and forty such collaborations since the group's inception.

WHERE:
The concert will be held in the Brick Elephant, formerly an old church, in Valley Falls, New York.
12 Emily Street, Valley Falls, NY 12185.
Admission by donation.

CONTACT INFO:
Mary Jane Leach
email


Valley Falls is in northern Rensselaer County, 20 minutes north of Troy, 25 minutes west of North Bennington, Vermont.
From the west: at the intersection of Routes 40 and 67 in Schaghticoke, drive 1.5 miles east, turn right just as you get over the bridge, then drive on State Street (117) two blocks and turn left. The church is on the left at the next corner - it's the biggest building in the village - you can't miss it.
From the east: when 67 branches off to the west from 22 (Eagle Bridge), continue driving for 11 miles, turn left just before the curving bridge, then drive on State Street (117) two blocks and turn left. The church is on the left at the next corner - it's the biggest building in the village - you can't miss it.

This program is made possible with public funds from the New York State Council on the Arts, a State Agency and private contributors.